Heading into 2010, the Royals made a trade with the White Sox, sending Mark Teahen to Chicago in exchange for Chris Getz (2B) and Josh Fields, a former first round pick who can play third base and some outfield.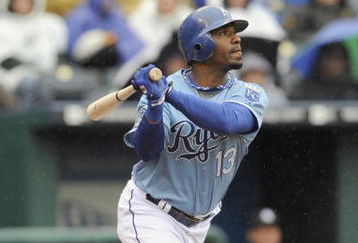 Looking back at 2009, the KC infield included its two most consistent hitters: first baseman Billy Butler and second baseman Alberto Callaspo. Neither of these guys are gold glove material, although Butler seems to keep improving in the field. Callaspo, on the other hand, seems to make one mental mistake after another, and could work on improving his range and glove work as well. At a position like second base, defense is key, and most are of the opinion that Getz, with more defensive upside, will become the everyday player at that position.
So the shuffle begins…
If Getz becomes the second baseman, that leaves us with an alignment of Butler at first, Getz at second, Alex Gordon at third, and (unfortunately) Yuni Betancourt at short. Not exactly the type of infield that a pitcher can believe in defensively, especially up the middle. Betancourt seems to be lazy, and has definitely proven to be an underachiever. Getz, on the other hand, has potential, but only has one year under his belt to this point and is offensively weaker than Callaspo.
With the above alignment, the odd man out appears to be Callaspo. Where does Trey Hillman play him now? The popular idea among fans is to make Callaspo the DH, but isn't that the ONLY place we can safely slot Jose Guillen into the lineup? We certainly don't want Guillen roaming the outfield…and honestly, with his lack of range the term "roaming" is being more than generous.
Really, the most efficient way to get a defensive effort from Guillen would be to plant him in one spot, draw a circle around him (about eight feet in diameter), and ask him to defend that area. There's just too much risk involved in leaving that circle. If he can get to a ball within his designated area, he's still got a hell of an arm, right? (According to the MLB Network, he's got one of the top five outfield arms in baseball).
Knowing what we know about Jose (not to mention that Dayton Moore has saddled this roster with a glut of outfielders)…he HAS to be the DH. Which means Callaspo is still without a position. We know he can play a little at 3B, but the Royals really have to put Gordon out there everyday this year. This is the season we need to find out about our "Man of Mystery." Callaspo is squeezed out yet again. With second base, third base, and DH all locked down, where does Callaspo go?
If you ask me what makes the most sense, it would be to shop Guillen around in a trade and offer to pay 90 percent of his salary. When that fails (I really don't think anyone would want him even at such a discount), the Royals swallow their pride (and several million dollars) and release Guillen, freeing up space on the roster for players who can, at the very least, still lightly jog. This scenario, however, makes way too much sense…meaning the Royals will surely not go this route. Where Guillen should be the odd man out, it still appears that title belongs to Callaspo.
What does all this mean? Apparently, by the Royals' logic, Callaspo seems to be the expendable player in Kansas City's lineup. Yes, this juggernaut of an offense (they were outscored in 2009 by every American League team except Seattle) can clearly afford to jerk around a guy who, in 2009, hit .300 in 155 games and posted an OPS of .813 (second on the team only to Billy Butler). Yet, heading into 2010, it seems that's exactly what the "brains" of this operation are determined to do.
It's this kind of thinking – or should I say this Palinesque disregard for simple logic – that could find the Royals ending crossing the 2010 finish line with the most anemic offense in the American League. You're welcome, Seattle.